SGC Grand Rank Promotions & Appointments
Dear Companions,


The Most Excellent Grand Superintendent, E Comp David J Boswell is pleased to confirm his following Suffolk Promotion in & Appointments to SGC Grand Rank.

Promotion: E Comp Raymond Keith Pascoe, Past Grand Sword Bearer. (PGSwdB)

1st Appointment to Active Grand Rank: E Comp Nigel Wallis Gibson Gregory, Grand Standard Bearer. (GStB)

1st Appointment to Past Grand Rank: E Comp Kelvin John Larcombe, Past Grand Standard Bearer. (PGStB)


Investiture is due to be on Thursday 30th April 2020, at Gt Queen St., London.

Further details will be available in the future.

All Companions can attend this meeting.






Another New Chapter is Consecrated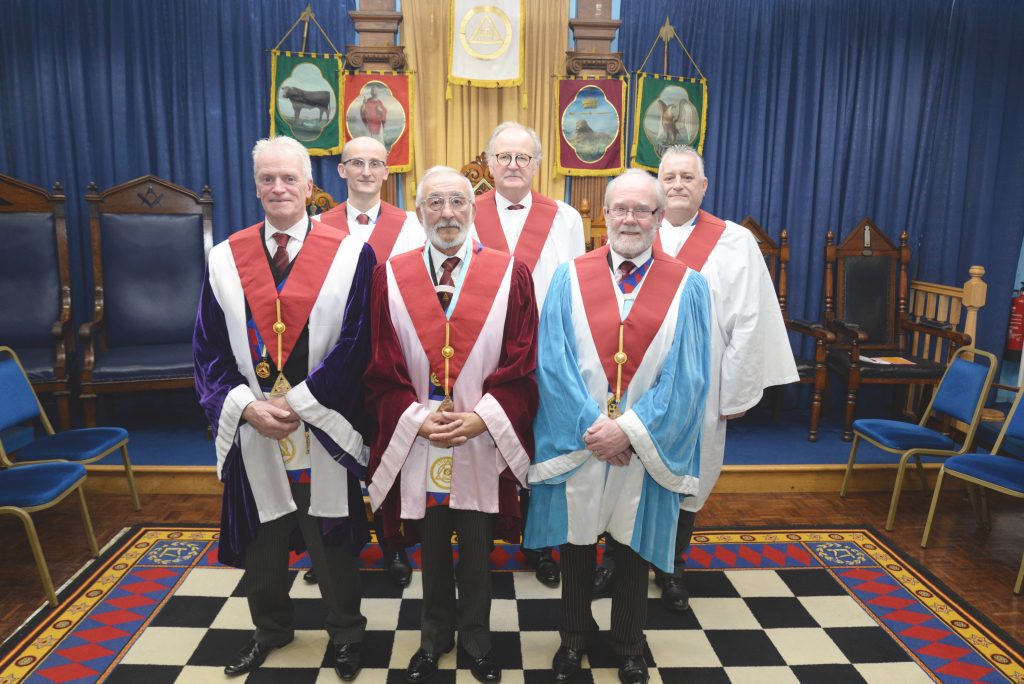 Aren't we the lucky ones then! That is the comment I received many times from many of the diners at the festive board celebrating the consecration of East Point Millennium Chapter No 9704 which took place on Saturday 18th January 2020 at Lowestoft. So how did East Point Millennium Chapter (EPMC) begin.


A young craft Mason, and other Junior Craft Masons of East Point Millennium Lodge No 9704, said they would like to have their own Chapter and how do we go about it. This was the embryonic gene that started the process way back in 2018. Many meetings Q&A took place and today we are in our Province enjoying another Chapters beginning.


Lowestoft Masonic Centre is a very vibrant well apportioned centre with ample parking and an excellent catering and bar service. 9 Lodges meet there and only 2 chapters and several other Orders also meet there. It is an excellent venue and on Saturday 18th January over 100 Companions attended the Consecration of the EPMC No 9704. MEGS David John Boswell and his consecration team carried out a truly enjoyable ceremony. I have been involved in a number of Consecrations and they are always wonderful to witness and quite naturally there are particular aspects that relate to each ceremony and Chapter and this ceremony just hit the spot for Suffolk and EPMC. The Three Principals, George Slaughter as MEZ, Richard Dixon as H and Raymond Pascoe, myself, as J were ceremoniously inducted into their Chairs. As you can imagine the three of us all belong to many chapters, I belong to 7 chapters so when we came to close it was quite amusing in that we just couldn't quite get it together but we succeeded and enjoyed it. A most enjoyable part of the closing was singing Jerusalem a lovely resounding hymn.


The festive board was itself a magnificent spread and I don't think anyone went home wanting breakfast the following morning. The catering staff were exemplary, full marks must go to Lowestoft for their service. But as most of us who have held an administrative roll in Freemasonry, it's the behind the scenes activities that go unnoticed or applauded. Mike Smith who is now the Scribe E has put an awful lot of time and effort into this including the work and support from the Provincial Scribe E Nick Le-Grys and the MEGS and his Executive team. These things don't just happen this Province has now consecrated 3 chapters in two years which in itself is some considerable achievement and demonstrates the desire to have a Chapter associated with their Lodge.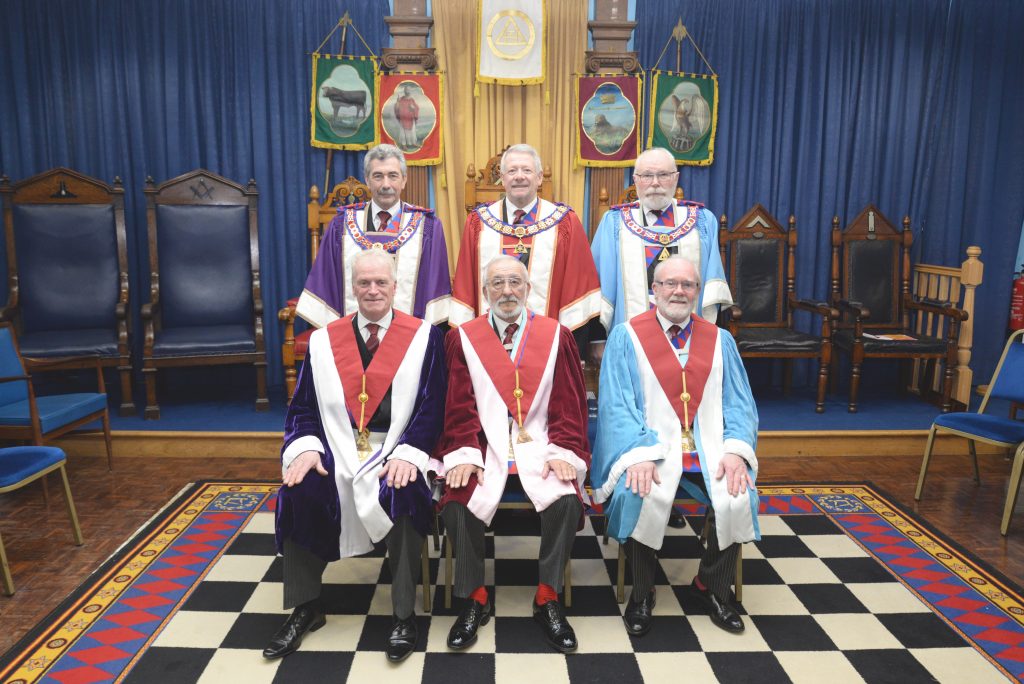 So why the comment
Aren't we the lucky ones then! Well… The comments.

Doesn't our Megs, BOZ ,
know just how to make everyone feel at ease.


Ray we have got one of the best in Boz,
God help us if we get someone who doesn't mix with us.


Ray its been the highlight of my Masonic
career today and our MEGS is one of the best.


Raymondo what a day and how great has it been to have David
consecrate this Chapter and to make us all feel important.


Ray I've been in Freemasonry a long time and your MEGS
is a real credit to you. Something to be proud of.


Raymond, I am so pleased we now have another Chapter in Lowestoft
and I do hope we can, all together, enjoy and support each other.


I do hope the Royal Arch Chapter Reps
go back and tell their Lodge members about today because
it has been a wonderful experience and I reckon there
are a few antis who would enjoy this.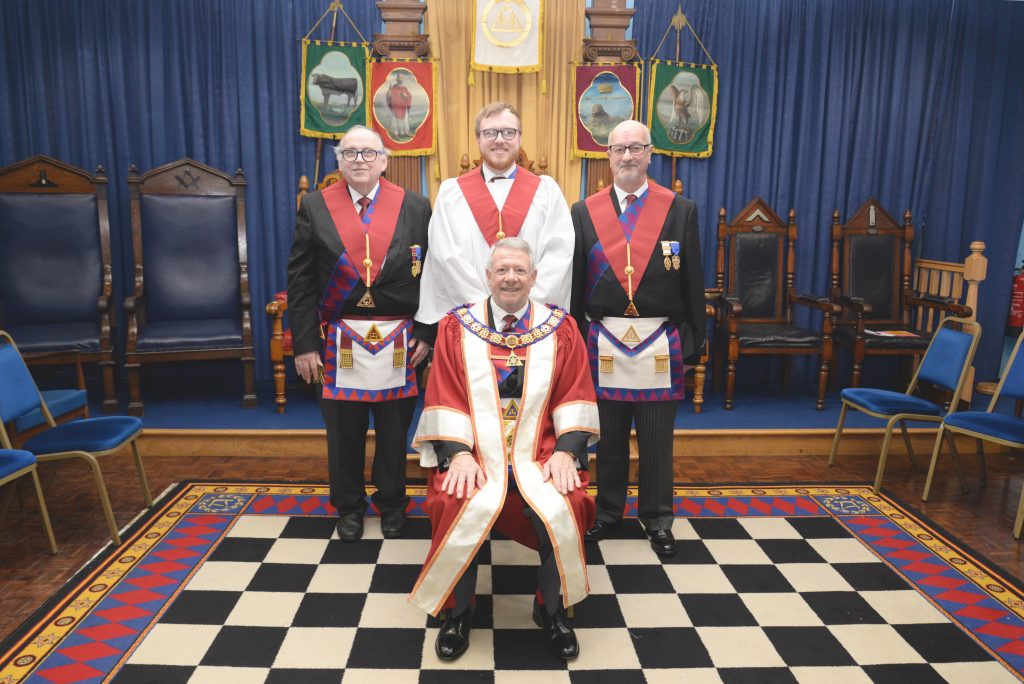 Companions and Brethren, the future of this Chapter not only depends on the Lodge members of EPM Lodge to support it but for all Companions to give it some support when it can. Lowestoft is really fortunate in having so many Craft Lodges attending the venue that it can support the Chapters that meet there. The future of Freemasonry doesn't just depend on getting new members, it requires us to give support in many ways to what we have and to listen to the young and junior ones who are willing to join and take part and expand Freemasonry.
Raymond Pascoe DGS




Success of a Red Table Event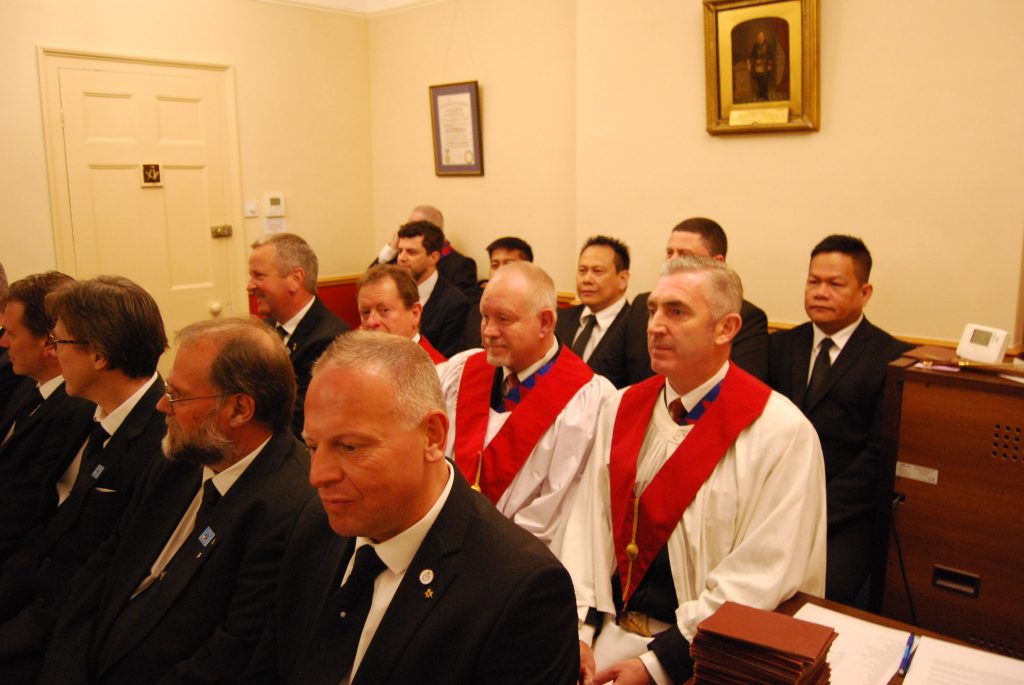 On Monday 29th April, Phoenix and Ala Chapter held a Red Table Event at Stowmarket Masonic Hall. Like a number of Chapters throughout many Provinces there are the occasions when Candidates are very limited and you need to consider something more inspiring than another boring lecture.
Henniker Chapter were in a similar position many months previous and Raymond Pascoe, who was the Provincial Almoner/MENTOR, and Dave Lillis who was the Deputy Grand Superintendent and a member of Henniker Chapter suggested holding a Red Table Event at Henniker Chapter. It was a resounding success. Hence it was suggested that Phoenix and Ala Chapter should hold a Red Table Event during one of their inactive periods.
E. Companion Mike Caddock PDGS, E. Companion John Kirk PTGP and several other members of the Chapter along with minor assistance from Raymond Pascoe and Dave Lillis held a very successful Red Table event.
The interest from junior Craft Masons and senior Craft Masons was incredible. Quite a few myths were disposed of and the statement "Don't join the Royal Arch until you've been through the Masters Chair" was trashed. There are members who still believe in this but his Royal Highness the Duke of Kent who is the Grand Master and the First Principal has said many times that Craft Masons should join the Holy Royal Arch once they have become Master Masons to complete their fourth step in Masonry.
On Monday 2nd December Phoenix and Ala Chapter Exalted Bro John Edwards who had attended the Red Table Event back in April at Stowmarket.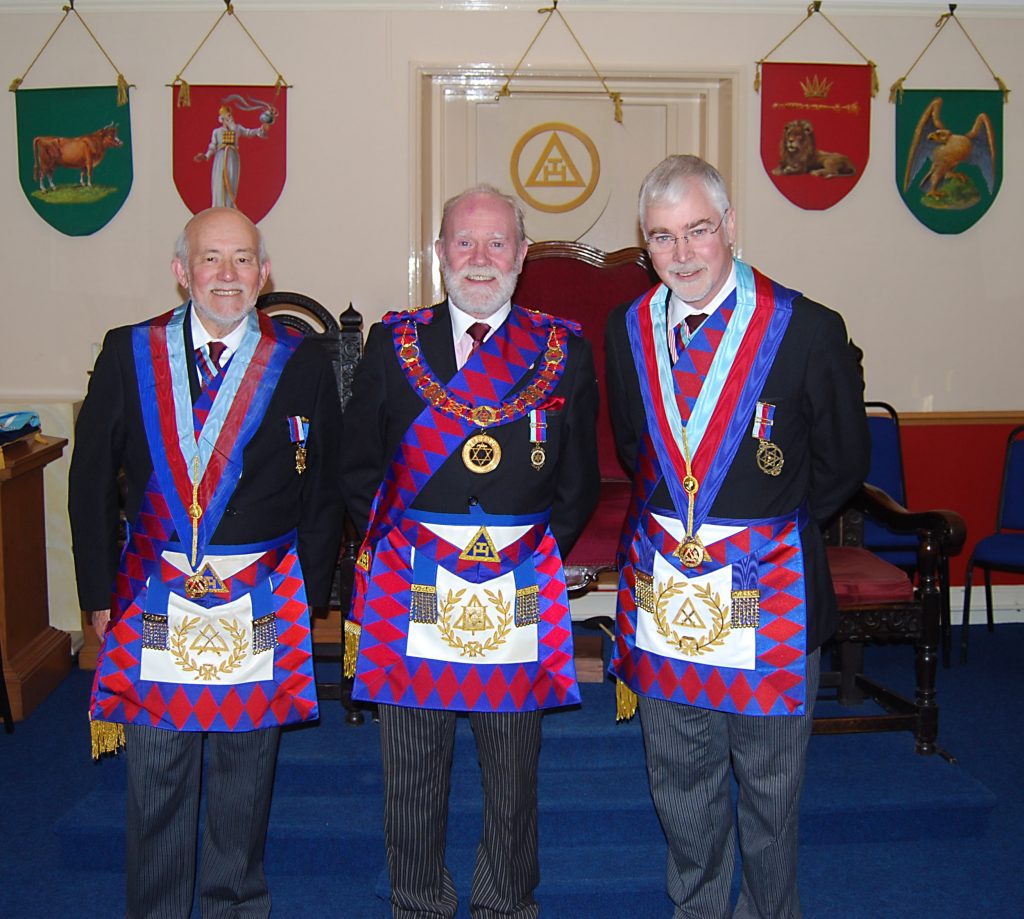 The MEZ at his Exaltation was E. Companion Mike Caddock who was a former Deputy Grand Superintendent and I was making an official visit, also attending as a guest was another former Deputy Grand superintendent Dave Lillis who had helped in putting the Red Table events together and wanted to see Bro John Edwards being exalted. The Ceremony was very impressive; the officers had practiced well and delivered a first class Exaltation. They are now looking forward to another Exaltation at their February Meeting.




_____________________________________________




Carols for Christmas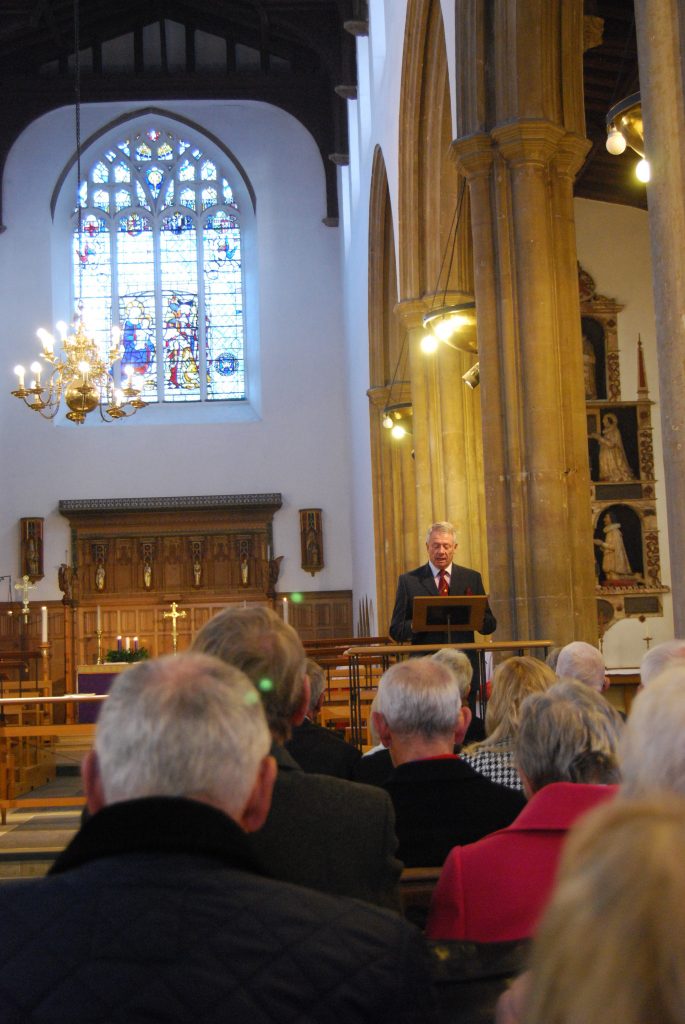 The Royal Arch once again hosted The Christmas Carol Concert at Woodbridge Parish Church on Sunday 8th December. The Service was conducted by the Provincial Chaplain, with readings given by our G.Supt. along with other heads of orders. Christmas Carols were heartly sung to the Church Organ which was played by our Provincial Organist.
The event concluded with Mince Pies and Sausage Rolls. along with coffee and tea.
On behalf of all those attended this was a great start to the festive season.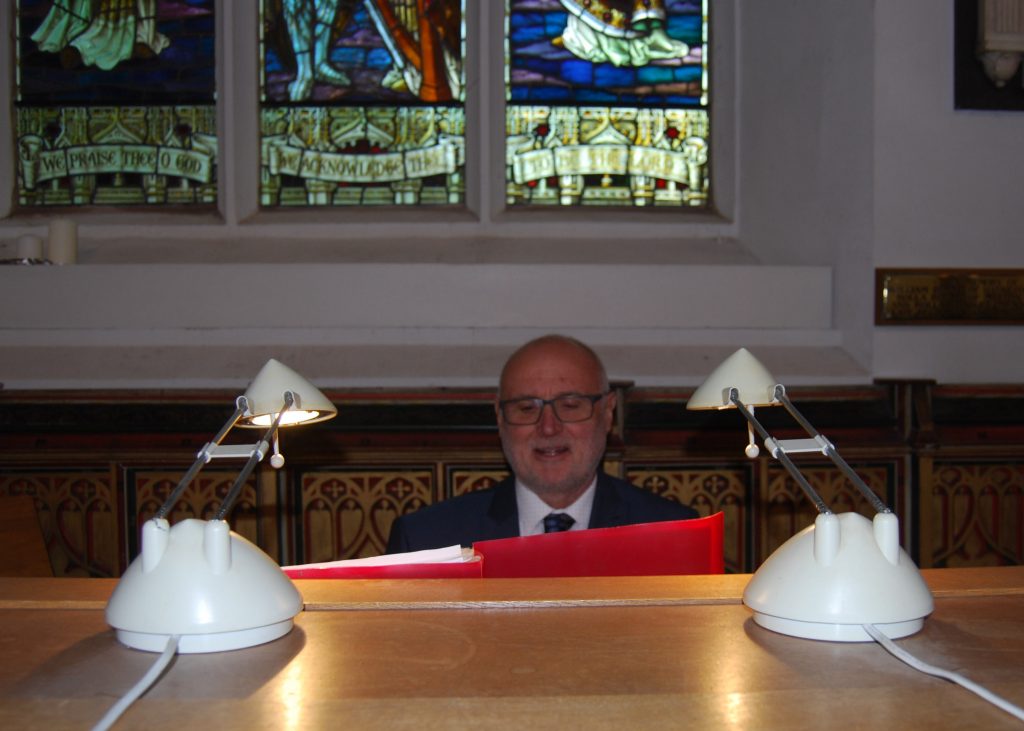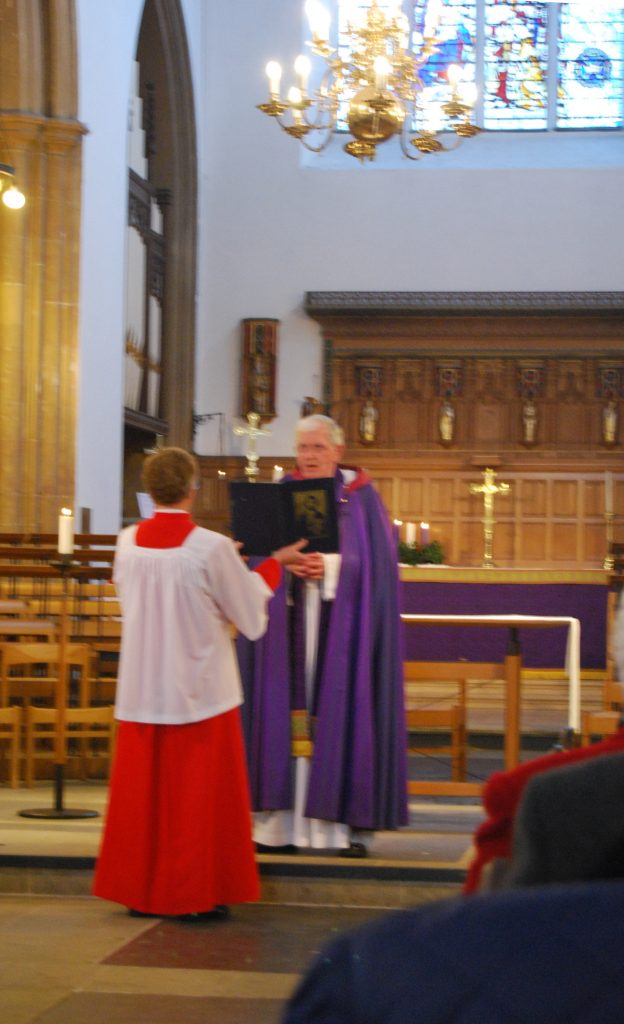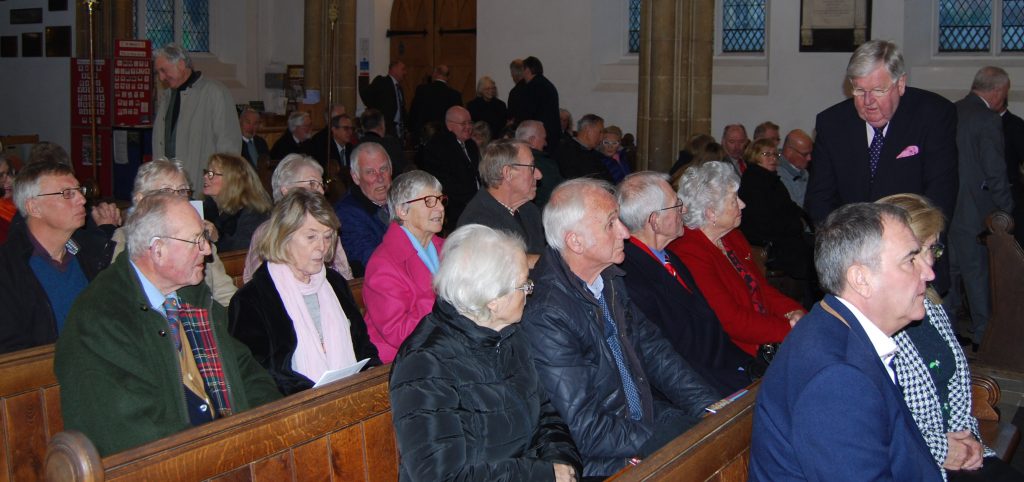 Welcome to Triune Chapter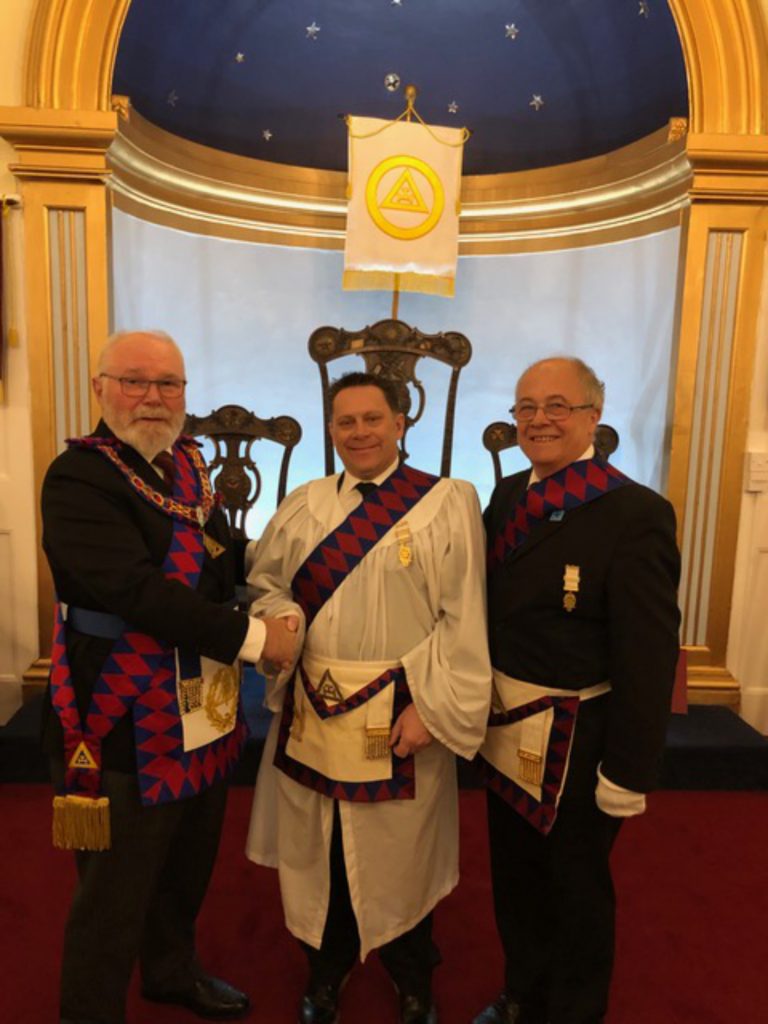 Our Third Grand Provincial Principle (Paul Norman) had the pleasure of greeting Companion Gary Baker at his exaltation of Triune Chapter at their October meeting.




Centenary Warrant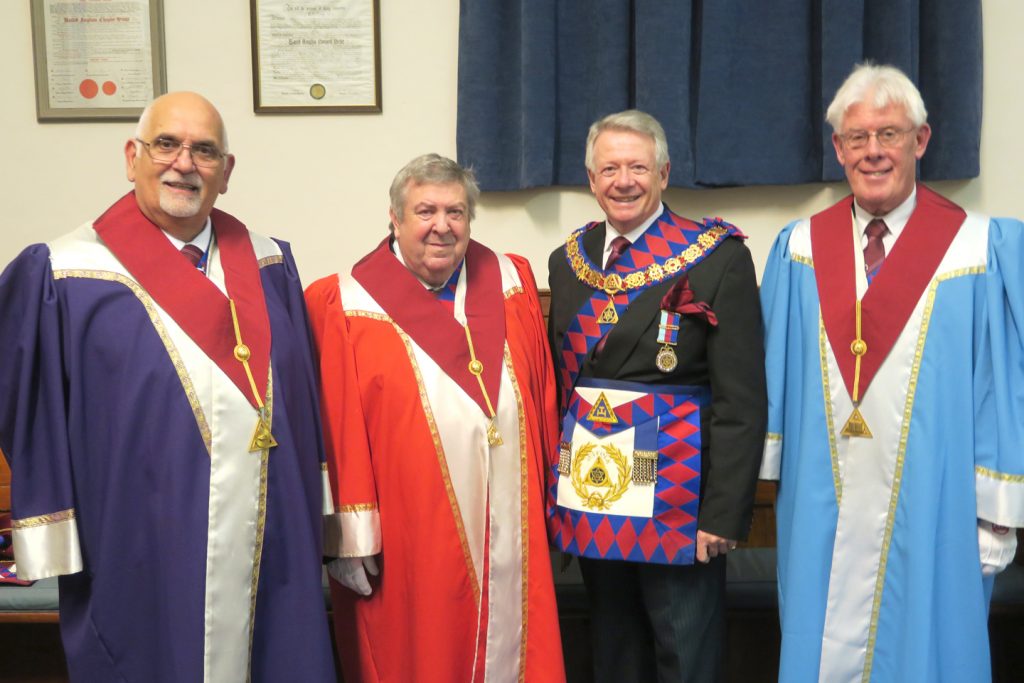 The planning for our Hartismere Chapter meeting began long ago, not quite 100 years ago but seven when we started saving for the beautiful handcrafted goatskin Centenary Warrant.

Having been compelled to move from the White Lion some 35 years ago, it was decided at the time, to place into store the various Chapter equipment and chattels as we could use the furniture already at Stowmarket.

A committee was duly formed last year, the original kit dug out of a vast wooden storage box and the work of restoration began. Among which much buffing and hard graft was undertaken by the old buffers of Elmset to restore the wonderful furnishings back to their original glory; the five platonic bodies and arch re-painted and various staves polished and the plate of gold was brought back to life. The repaired hand painted silk banners are a sight to see.

We planned to hold the meeting exactly 100 years after the consecration on the 16th October and as near to our spiritual home as possible. Sixty Royal Arch Masons therefore gathered to celebrate at the Masonic Hall, Diss, with the Most Excellent Grand Superintendent, The Deputy Grand Superintendent and the Third Provincial Grand Principle, as well as a host of Active and Grand officers were in attendance.

With the chapter opened and the introductions over, the original Charter Warrant was read by the Provincial Grand Scribe, the Chapter history presented by the Chapter DC, the Centenary Warrant was then read and presented to Zerubbabel by the Most Excellent Grand Superintendent. Centenary Jewels were then given out by the Most Excellent Grand Superintendent with evident joy.

The Third Grand Provincial Principle then re-dedicated the Chapter Furnishings and Chattels with evident warmth and solemnity.

The Chapter was closed in peace and harmony and we all retired to the Festive Board for a sumptuous six course banquet amid much banter, laughter and happiness.

I'm already looking forward to the next Centenary meeting of the Chapter, but will I live that long?
Richard Styles



Oh What a Night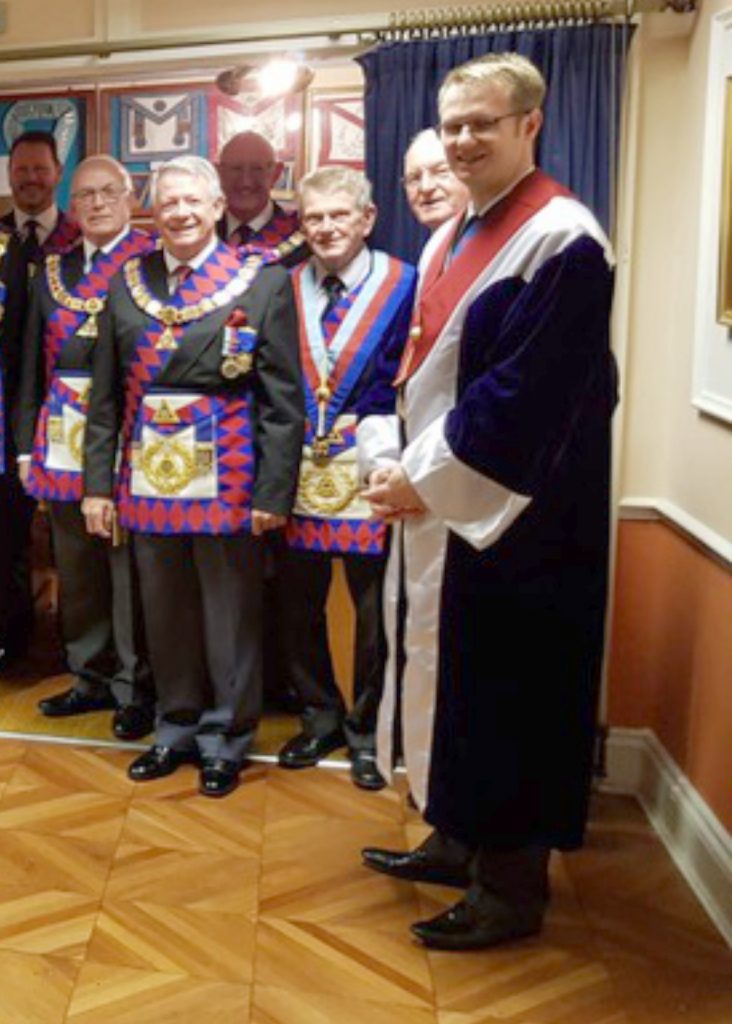 Companions, Brethren and Readers, It's not often that you get to witness a ceremony that not only leaves you feeling emotionally charged but also extremely proud that your MEGS had a part in it and your own Province were instrumental in the whole thing.

On Friday 11th October a retinue of Suffolk Royal Arch Companions were invited to an Installation meeting at Caversham Chapter No 3831 in the Province of Oxfordshire. The actual meeting place is in the Masonic Hall Henley Road Reading, a really lovely and well decorated Temple.

As any sane person will tell you, don't venture out on a Friday because only mad people drive on a Friday and that was certainly the case for us. The journey from Suffolk to Reading was horrendous, pouring rain and heavy traffic. However, the reason for this journey was to see E. Companion Michael Boswell, the son of our Grand Superintendent, Installed as MEZ in the Caversham Chapter. Michael was exalted into the Holy Royal Arch by his father and I was fortunate enough to be there on that occasion and it was quite spectacular.

We arrived with enough time to dry off and get ready, but as we were getting ready a few Grand Superintendents started to arrive followed by even more and then the Second Grand Principal Russell Race arrived. The D.C. directed us all to our reserved seats, the temple was packed. The organist was playing some beautiful music, very appropriate for such an occasion, the DC called us to Order as the Principals entered and opened the Chapter.

The DC then called us to order as the Second Grand Principal with 10 Grand Superintendents and Past Grand Superintendents, as escorts, were escorted into the Chapter. He was offered the Sceptre which he accepted and gracefully returned. The Most Excellent Grand Superintendent J Hilditch was then offered the Sceptre which he accepted, the minutes were then approved and he outlined the procedure for the meeting. The MEZ Graham Howe then resumed the chair and invited our own Grand Superintendent, David Boswell, to take the Chair. If someone says "his eyes were like organ stops" then that is exactly how David's son Michael's was. The installation ceremony was full of emotion; I don't think anyone didn't feel a touch of emotion and pride as David Installed his son.

I, Ralph Robertson and John Kirk had a very small part to play in delivering the readings, prayers and H & J Robe addresses and we felt quite proud that Suffolk was intimately involved in such a special occasion.

Once everyone had been installed and the officers had been invested our MEGS, David, gave an address to the Three Principals which is quite unique because it's very seldom done and is extremely fitting, it reminds the Principals of their duty to the Companions and the Royal Arch.

The convocation ended with both Russell Race and David Boswell being made Honorary Members.

As you would expect, the festive board was itself exceptional and the 12 Suffolk Royal Arch Companions who were invited took wine with "Your Excellencies we will take wine with you" in fine harmonious voice. Something I don't think they have seen before but I have no doubt they will witness it again when they come to us for a visit.

Without any shadow of doubt this was a truly wonderful ceremony, a father installing his son. I guess we all have a vague memory of our own installations but this one will be with those of us who witnessed it for many years to come and for Michael and David I have no doubt that over a glass or two of something they will be able to share that lovely bond of friendship which Freemasonry and the Royal Arch embodies. God Bless them.
Copy – Ray Pascoe




PHOENIX AND ALA CHAPTER No. 516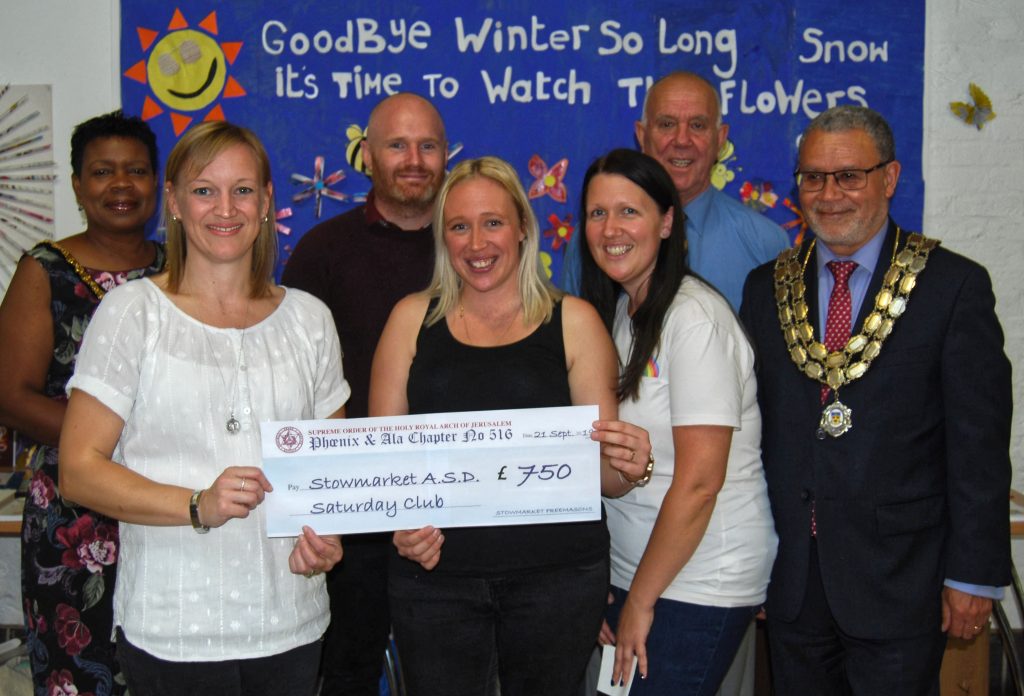 Saturday 21st September 2019 saw the MEZ of Phoenix & Ala Chapter at Stowmarket, Excellent Companion Peter Farthing, accompanied by the Scribe E, Excellent Companion Codge Barber, attending the launch of the Stowmarket ASD Saturday Club Sensory Library at the Community Hub, Stowmarket.

This Group supports families with children suffering with Autism. This launch was to show the new Sensory Library which will provide a variety of items which are designed to help a child or adult adjust to, or cope with, sensory challenges.

The library contains all manner of items which can be loaned to families for a period of time, just like at a book library. Phoenix & Ala Chapter were delighted to donate £500.00 towards the costs of the library and the Grand Superintendent was pleased to add an additional £250.00 to this donation. Our picture shows Excellent Companion Peter Farthing handing over the cheque to the Group organisers.

Copy Ex.Comp. John Kirk



573 total views, 1 views today