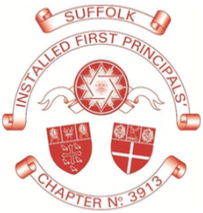 Why Join Suffolk Installed First Principals?
The Suffolk Installed First Principal's Chapter serves a similar purpose to that of the Suffolk Masters Lodges, offering members the opportunity to broaden their Masonic knowledge, to promote their understanding and appreciation of the Royal Arch and to develop, strengthen and retain Masonic friendships amongst those who are or who have been First Principals of our Chapters.

What is Suffolk Installed First Principals?
Membership of Suffolk Installed First Principal's Chapter is open to all Installed First Principals who are members of a Suffolk Royal Arch Chapter and all new members can be assured of a warm and friendly welcome. The Chapter meets twice a year, the regular meetings dates being the first Friday September and third Monday June, Installation, June Meeting. At our meetings we aim to attract speakers of the highest quality who deliver papers full of information and interest, or alternatively we receive a demonstration/presentation.

How to Join
Membership of this prestigious Chapter is easy. Simply email your name and address to the 'Scribe E' at scribesifp@btinternet.com. He will be happy to send you the relevant form. You will be invited to attend the subsequent convocation of the Chapter, where the Most Excellent Grand Superintendent will be delighted to have the opportunity of welcoming you personally as a member of the Suffolk Installed First Principals Chapter.