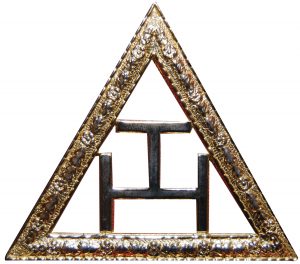 .
.
.
.
.
The Triple Tau
The Tau is one of the most important symbols in the Royal Arch, along with the Triangle and Circle, as explained for the Royal Arch Jewel. We use the capital version of the Greek letter Theta, which is T, the origin of our English alphabet capital, as the basis for this symbol. It also is a very early and simple form of the cross, known as St Anthony's Cross. In ancient times, the tau was considered as a mark or sign of life and, according to the Mystical lecture, was 'used to distinguish the innocent and those who escaped unhurt from battle'.
There are Biblical roots for this last idea. In Ezekiel Chapter Nine, the Lord speaks to the six men appointed to punish the city of Jerusalem and tells 'the man dressed in linen with pen and ink at his waist' to 'go through the city and put a mark (or tau) on the foreheads of those who groan and lament over the abominations practiced there'. The Lord then tells the remaining men to 'kill without pity … but touch no one who bears the mark'. In pagan times a warrior who survived battle with honour could attach a T to his name.
The Triple Tau has a different origin as it developed, not from a conjunction of three T's but from a T-over-H sign which meant Templum Hierosolymae, the Temple of Jerusalem. The earliest Grand Chapter Regulations directed that aprons should bear on their bibs a T and H of gold. On one of the oldest Royal Arch certificates in existence, Thomas Dunkerley's of 1768, the T touches the bar of the H and both letters have serifs, the little decorative bars on the arms of the letters. It would appear that the Triple Tau evolved into its geometric form over time by gradual process of alteration and simplification before adopting the allusive origins we now accord it. It is hard to date exactly when this symbol overtook the T-over-H and became officially adopted but it was probably in the early 1830's when revised regulations were issued by Supreme Grand Chapter. Today, the Tau is prominent on your Royal Arch Regalia and just about every communication issued concerning the Degree.