.
.
.
.
.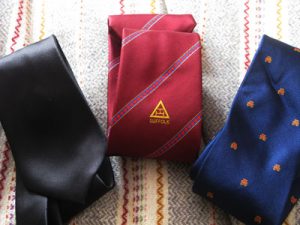 The issue of what tie for a to wear Masonic Meeting used to be straightforward. Look like an undertaker on a break and you were fine. The situation is now more complex. In effect, however, it comes down to three alternatives:
The Standard Funereal Black.
Always permitted in any meeting for any order. There is also a view that the Craft Suffolk Provincial Tie is black with invisible black embroidery.
The Supreme Grand Chapter Tie.
This is only available from Letchworth's at Grand Chapter and is blue with red Taus. It comes in a variety of qualities and is acceptable in any Chapter and when visiting Supreme Grand Chapter. It is also, by command of the Pro First Grand Principal, permissible to wear this in Craft Lodges.
The Provincial Tie.
Note that this tie can only be worn in a Suffolk Chapter or at a meeting of the Province of Suffolk. Generally, you cannot wear this outside Suffolk without approval of the Grand Superintendent, any more than ties of other Provinces can be worn within Suffolk. It is not permitted to wear Provincial Ties in Supreme Grand Chapter.
In all cases, common sense should prevail. Carrying a black tie in the case will avoid situations where offence might be caused by wearing colours. Similarly, respect other Companions considered choice.